So many faces in and out of my life
Some will last
Some will just be now and then
Life is a series of hellos and goodbyes
I'm afraid it's time for goodbye again
Say goodbye to Hollywood
Say goodbye, my baby
Say goodbye to Hollywood
Say goodbye, my baby
--Billy Joel
Having departed Burbank just after 5PM on a weekday, the drive back to San Diego was endless. It took over five hours. And yet I remember, as BW's Honda barely crept down Interstate 5 (or "The 5," as it's known on the West Coast), that a giant smile remained plastered across my face. I felt as if I had taken five hits of the best ecstasy ever created. I am embarrassed now to admit some of the insane, grandiose thoughts that flew through my head. I thought about what car I was going to buy with my new-found wealth. (I was still driving
Carmen, my constantly-breaking-down '97 Passat
, at the time.) I thought about how I'd have to find a nice gym to work out at in Burbank. I thought about how some weekends I would drive to San Diego to stay with BW, and the other weekends he's come up and stay with me. I was literally spending the jackpot of the lottery I had yet to win. And even then, a little voice kept saying, "Calm down. It hasn't happened yet, and it still may not."
And yet: There was a certainty about the whole thing. The way they had mentioned my getting an apartment in Burbank and made the comparison to Joy Behar at the start of "The View." The fact that Annabelle was close friends with Roxanna -- and had told me at the end of the meeting that she was going to check in with Roxanna to get her input on me. It all just felt... meant to be.
That evening, after I had gotten home, I sent Donny and Annabelle a thank-you email. (It actually took me a couple tries; I hadn't gotten Donny's contact info, so I guessed at his email address using Annabelle's as a model. But instead of reaching Donald Page, executive producer at ABC-Disney, I reached Donald Page, ride operator at Disneyland. The latter was kind enough to write back and supply me with my Donny's email.)
I imagine Donny the ride operator looking like this.
Donny responded in an email the next morning: "It was great meeting you, too, and we hope to be working with you in the future." That was a good sign; most of the time, you never hear a word back from industry types unless you've booked the gig.
But after a couple of weeks passed without any further contact from ABC, I started to get nervous. And then it hit me that I had never followed up with Roxanna after my meeting. Maybe Annabelle and she had spoken, and maybe Roxanna could provide a little insight into what the execs had thought of me? So I emailed Roxanna in Europe and asked her.
The tersely worded email she sent back made my blood run cold. I didn't save it, but here's more or less how it read:
"Adam, Annabelle did reach out to me to ask what I thought of you. I told her that you were funny when I knew you 15 years ago, but I hadn't seen you since then and have no idea what you're like now. Best of luck."
People are funny creatures. It's impossible to ever really know what goes on in someone else's head. Roxanna and I had been the closest of friends during a stressful and difficult year in both our lives. She had been a guest at my parents' home for several holidays. In all of my Columbia graduation photos, there's Roxanna and her family posing with me and my family, outside St. John the Divine and at the restaurant where we all got dinner afterwards. So I can't begin to imagine why Roxanna would have been anything other than glowing when speaking about me to Annabelle, someone she knew had the power to profoundly impact my life. It certainly wouldn't have cost her a thing, and I don't have the slightest doubt I would have done it for her had the situation been reversed, whether it was 15 years later or 40 years later. But there it was. As I said, people are funny creatures.
And look, I'm not foolish enough to think that Roxanna's recommendation -- or lack thereof -- had anything to do with how this story ends. It was just one added element of crushing pain, disappointment and humiliation. Because surely by now even the most hopeful of my readers knows how it ends:
I never heard from ABC again.
I sent a follow-up email to Donny and Annabelle a month later and got no response. I sent another one about six weeks later. I also added both of them to my mass email list so they would be included whenever I sent out announcements about upcoming shows.
Zilch.
If you find the ending to this story unsatisfying to read, try living it. I wish I could I give you a better conclusion. I truly do.
I've only told this story to a handful of people, all of them comedians. They have all had the exact same reaction:
"OK. And?"
Because this is, at the end of the day, what happens in showbiz. It happens every single day of every single year to every single person trying to make it as a performer. You try out for things, and most of the time you don't get them. And you never hear back from the people for whom you tried out. And even if you do possess the talent and the fortitude and dumb luck to FINALLY get something... it ends up falling apart. The pilot gets canceled. Or it gets shot but doesn't get picked up. Or it does get picked up but gets canceled after four episodes, and you don't land another job for five years.
That's showbiz.
And I know that. I've learned that lesson a thousand times. Believe me, these Tales of Woe could have easily had 50 chapters instead of five. But each time it happens to me, I die a little bit inside. And after these two particular episodes --having a manager and then not, and being summoned to ABC for a talk show and then not -- I died a lot. I lost faith: In myself and in the world. My relationship with BW suffered to the point of collapse. And I ultimately just gave up.
My dear friend and fellow gay-median
Brad Loekle
is fond of telling me: "You have the worst possible personality for this business." As cunty as that sounds, he's right. In spite of all my extroverted bravado I am fundamentally a deeply sensitive, insecure person. I am still
that 14-year-old gay kid getting pelted by snowballs on the school bus
and not knowing why or how to stop it.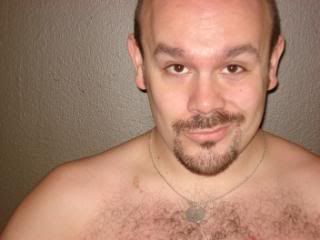 The Voice of Reason. Which sounds oddly like the voice of Satan.
Again, I hear every comedian I know answering that with: "OK. And?"
Because that's also showbiz. Nobody becomes a performer -- especially not a comedian -- because they feel wonderful about themselves. We're all trying to fill some deep, aching need, and also because we're adrenaline junkies -- a potentially lethal combination (RIP
Lenny Bruce
, J
ohn Belushi
,
Chris Farley
,
Mitch Heburg
,
Richard Jeni
,
Greg Giraldo
and the list goes on.)
Look, I don't want anyone out there worrying about me. I have neither the genius nor the madness of any of the folks mentioned in that last paragraph. When I say "I gave up," I mean on
comedy
-- not life. Yes, I've continued to perform steadily these last two years, and I will continue to do so. The truth is, I can't stop now. Comedy is in my blood. I write new jokes whether I want to or not; it's an involuntary reaction. And when I'm away from the mic for more than a week, I begin to crave it, the way a hungry person craves food.
But for much of the past two years, since my West Coast fiascoes, I've given up on the idea of "making it" in this business. And by "making it" I mean achieving a level of financial security from performing such that I'm comfortable giving up my day job and my employer-sponsored health insurance. Life is about choices, and this had been my choice. Some days it's a choice that keeps me awake at night, and some days it's a choice that makes it very hard for me to get out bed in the morning. But it's also a choice that allows me to live in a very nice condominium in one of the best neighborhoods in New York City and know where my next paycheck is coming from enjoy a semblance of a social life.
Something is shifting now, though, and I can feel it. I've felt it ever since I had drinks with
Leah Bonnema
last month --
which was the whole impetus to begin blogging again
. It's not that I'm planning to do anything rash like quit my day job (although I do fantasize about it a lot lately). But I am feeling that little spark of hope and possibility again. I have a
number of fun gigs on the horizon for this spring and summer
-- far more than I did last year at this time -- along with some potentially exciting side-projects. I feel as though maybe I'm ready to put myself back in the game and see what happens.
That's also what showbiz is, by the way: The ability to dream big.
I'm trying.
Homo out. (Probably for a while, but I'll be back. I promise.)
♥
Don't forget THAT SANK SHOW every Wednesday at 10PM at
Bar-Tini Ultralounge
.
And you can hear me on the
Derek & Romaine Show on Sirius-XM OutQ
(Channel 108) next Friday, May 27 at 7PM ET.
Oh, and here's video of an interview with me
at the Love Out Loud VI Event on May 11.
(I come in at 6:42.)