The other night as I lay in bed around midnight, I was seized with a sudden and explicable craving for Peanut Butter Cap'n Crunch. It's been years since I've kept any breakfast cereals in my apartment, as they're all more or less empty calories and sugar. But the dangerous thing about living in New York City is that if and when a craving strikes, whether it be for drugs, sex or Peanut Butter Cap'n Crunch, chances are you can usually obtain what you're after in a matter of minutes.


Take Your Pick.

Sure enough, I found myself moments later at the corner deli in my pajamas and flip-flips, handing over $5.49 (!) for what I craved.

A few words on my longstanding relationship with Peanut Butter Cap'n Crunch (henceforth referred to as PBCC). As a child, it was always my favorite cereal. I'm not even going to entertain the notion that regular Cap'n Crunch or those vile Crunch Berries even compare to the delicacy that is PBCC. They are simply heaven in a box. I have fond memories of my father and I watching late-night television together as we chomped away at those sumptuous yellow orbs, passing the box back and forth as one would a crack pipe. It's actually one of the only things we ever had in common.

The only problem with PBCC, then as now, is that they are murder on your tongue and gums. No matter how long you soak them in milk, you always wind up feeling as if you've given head to a rhino.


'Thank you!'


Nevertheless, it's worth it. And needless to say, I wound up eating three giant bowls of the stuff before passing out. Now what's left of the box is sitting in my refrigerator (safe from the ravenous mice), and I find that I can no longer get to sleep without eating at least one bowl. I can also no longer feel the roof of my mouth. I actually think I've developed callouses, as a guitar player does on his fingertips. I truly hope when this box runs out, I'll quit. Otherwise, I'll soon end up toothless and 40 lbs overweight.

By the way: According to a site called calorie-count.com, a 3/4 cup serving of PBCC contains 112 calories, 9 grams of sugar and 21.3 grams of carbs. And let me assure you, I'm eating a helluva lot more than 3/4 cup in one sitting.

None of which has anything to do with what I

really

want to talk about which is the G.O.P. And by that I mean the Gay Old Party.

Yes, kids, it's been quite a summer for conservative Republicans who secretly crave cock. And by that I mean all of them.

To wit:

On July 11, Republican State Representative Bob Allen of Titusville, FL (and I couldn't make that place name up if I tried) was arrested when he offered $20 to a black undercover police officer in the men's room of a public park. In return, he wanted to blow the officer.

There are so many things to love about this story, not the least of which is that Allen, who is married with kids, had signed onto Gov. Jeb Bush's friend-of-the-court brief supporting the state's ban on gays adopting children and once co-sponsored a bill that would have raised penalties for "offenses involving unnatural and lascivious acts," such as indecent exposure.

No, most delicious is that after his arrest, Allen told police the only reason he solicited the officer was because he was virtually surrounded by menacing looking black guys at this park, and he was afraid he was about to become "another statistic."

Which makes total sense to me. I know that whenever I'm surrounded by menacing looking black guys, offering to blow them almost always defuses the violence.

Now, of course, the local NAACP chapter is taking umbrage with Allen's racist defense, and his political future doesn't look so bright.


Meanwhile, my feeling has always been that if you have to

pay

for bathroom sex, it's time to get back to the gym. Seriously.


Wanted: By Absolutely No One


We move now to Glenn Murphy, Jr., age 33, who until recently was chairman of Indiana's Clark County Republican Party and president of the Young Republican National Federation. He's another looker, by the way.


'Do I make you horny, baby?'
You've heard of sleepwalkers? Well apparently Murphy's a sleepcocker. On July 29, he was sharing a room with a 22-year-old dude after the two had attended a rockin' Young Republicans party. The 22-year-old awoke in the middle of the night to find his G.O.Penis in Murphy's mouth. Needless to say, he lost his head.

Now, I personally feel there are worse ways to be woken up. But I guess the 22-year-old didn't see it that way because he's pressing criminal sexual assault charges against this somnambulist sucker.

Who, by the way, seems to have a thing for late-night snacks -- and I don't mean Peanut Butter Cap'n Crunch. In 1998, he did the

exact same thing

to a 21-year-old dude while

he

was sleeping. (The 21-year-old filed a police report, but charges were never brought.)


'Now I lay me down to bed.
I pray no fat Republican gives me head.'


Incidentally, all this talk about having sex with a guy who's asleep reminds me of my last serious relationship. But I digress.

And finally we come to the story that's getting round-the-clock coverage, Idaho Senator Larry Craig's adventures in Toiletland.

Unless you live under a rock, you know by now that in June, the married Craig, a vocal supporter of anti-gay legislation on both the state and federal levels, pleaded guilty to "lewd conduct" in a men's room at Minneapolis-St. Paul International Airport. Once again, the case involved an undercover police officer, whom Craig solicited for some action while seated in the adjacent stall. The officer said Craig tapped his foot repeatedly, a known signal meant to convey: "I want dick!"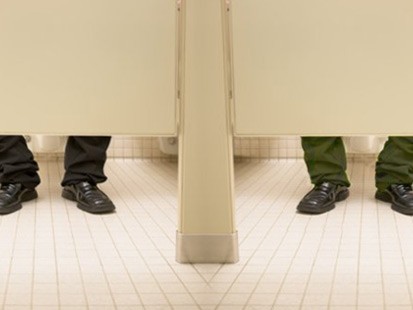 Cue the theme from "My Three Sons."


Craig also "waved his hand" under the stall (which is always sexy), and had reportedly been "peering through the crack in the stall" at the officer for a while before taking his seat on the john.

As I write this, it looks inevitable that Craig will be forced to resign, despite his announcement yesterday that he "did nothing wrong!" and is "not gay!"

If I can be serious for a moment, I agree with him on both counts. Sen. Craig's

not

gay, nor is State Rep. Allen nor Glenn Murphy, Jr. "Gay" is an identity one embraces when one accepts the truth about himself. Doing so isn't easy. It requires honesty, integrity and courage -- qualities these men utterly lack. Gay is not what they are. What they are are miserable, hypocritical cowards who, because they hate themselves, devote their energies to trying to destroy the very people they wish they could be.

That's not hyperbole. In 2002, Sen. Craig voted

against

adding sexual orientation to federal hate crime laws. He would have us literally beaten.

So I feel nothing but joy and satisfaction at these men's reversal of fortune. I hope they feel every ounce of public scorn and humiliation. And then I hope they come out of the closet and renounce their former ways. It's their only hope for happiness.

On the other hand, as an American citizen in this age of terrorism, I can't help but wonder if conducting sex stings in public toilets is really the best allocation of our resources. (I'm excluding Murphy here, because his alleged acts took place in private and were with non-consenting partners, thus being immoral as well as criminal.)

It's sad that some men are so lonely and desperate that they have to turn to such places for human contact, but honestly -- are they really hurting anyone? The media and cops would have you believe that these guys are predators waiting to pounce on the first penis they see. In reality, bathroom cruising (as it's known in the gay community) is an extremely furtive and subtle business. Unless you're a cruiser yourself, you'll almost never be aware that you're a cruisee.

In other words, if an oblivious straight guy wants to take a piss or a No. 2 in a public restroom without being hit on, he's almost always able to do so. It's only the dudes who linger at the urinals or in the stalls for inordinate amounts of time, or who purposefully make eye contact with other dudes who become the recipients of such attention.

Somehow, then, sending hot, young undercover officers -- and they are invariably hot and young -- into bathrooms to entrap these poor souls seems not only unnecessary, but cruel.


Seriously: Who WOULDN'T want to blow that?
All right, I'm off my soapbox and outta here. I won't be hosting the Electro Shock Therapy Comedy Hour this Sunday because I have to be in New Jersey for Mom and Dad's 45th wedding anniversary. But the hilarious Brad Loekle will be filling in, and Laurie Kilmartin headlines. So check it out!

And don't forget:


Peanut Butter Cap'n Crunch will be served.

Homo out.

♥