An oddly dull and anticlimactic evening, I thought, from Ellen's lesbian-casual couture to the endless movie montages -- did we really need a montage showing people writing and typing? -- to paint-by-numbers acceptance speeches and lackluster musical performances.

At first I thought, "What a great idea for them to put all the technical categories no one cares about up front and save the big ones for last!"

Two hours later, fighting to stay awake, I had changed my mind. So bored was I with the ceremony that I found myself supremely grateful when Jodi Foster finally came up to introduce the "Look Who's Dead" montage (even though Anna Nicole Smith and James Brown were both shamefully omitted).


Don't forget: She was in "Naked Gun 33 and 1/3"

The only real gasp-inducing surprise was Alan Arkin's win over Eddie Murphy for Best Supporting Actor, and even that category was the least sure of the Sure Things.

As for Ellen, she had a very rough start. (First joke: "This year we're going to focus on the nominees. Unlike in years past, when we mainly focused on the winners." Ohmigod, what biting satire! My sides hurt!) But she definitely warmed up as the monologue progressed, and she had a couple nice moments later in the show, particularly when she made Steven Spielberg take a picture of her and Clint Eastwood for her MySpace page.

For my money, the show's highlights, few and far between as they were, all came from the Parabolas dance troupe, whose members periodically formed incredible shapes with their bodies -- most memorably "Snakes on a Plane," -- behind a lit white screen. (Sadly, they're not even listed among the telecast's performers on the Oscar Home Page.)

And now... without further doo-doo... my annual Oscar Wrap-Up Awards (affectionately known as the Addies):

Best Dressed, Female:

Cate Blanchett, looking almost frighteningly perfect in Armani.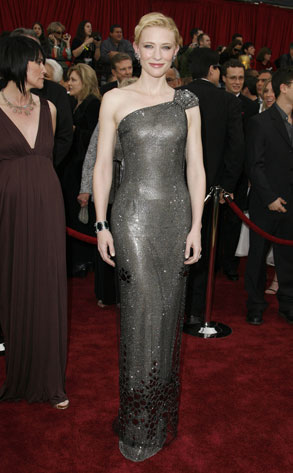 Unfortunately, her publicist (left) had her
hair done by Cuisinart.

Best Dressed, Male:

Mark Wahlberg, seen here with a woman who didn't have time to finish sewing her dress, so she used surgical tape.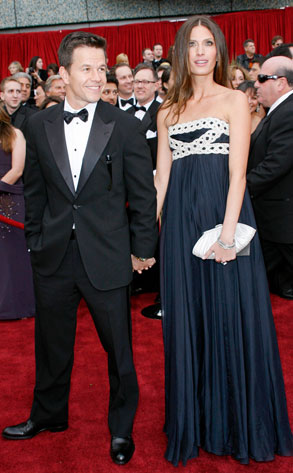 Bet he's the best UNdressed male, too...

Funniest Moment (Intentional)
:

Al Gore's getting played off by the orchestra as he began to announce his candidacy for president.


Funniest Moment (Unintentional)
:

Ellen DeGeneres's referring to the Spanish Penelope Cruz as Mexican... and then having to apologize for it.

The "I Wore a Dress with Two Necks, and All I Got Was This Stupid Yellow Midget" Award: Nicole Kidman.
Why am I suddenly hungry for clams?
Most Unexpectedly Hilarious Monologue:

Jerry Seinfeld, riffing on movie snacks. Who knew he was still funny -- or that there was any more humor to be mined out of movie snacks?
Most Frightening Tribute to Britney Spears:

A chrome-domed Jack Nicholson, looking like Peter Boyle in "Young Frankenstein."




The Pink Flamingo Massacre Award:

Penelope Cruz, for that hideous Versace disaster. I don't care what the fashionistas say; it was muy feo.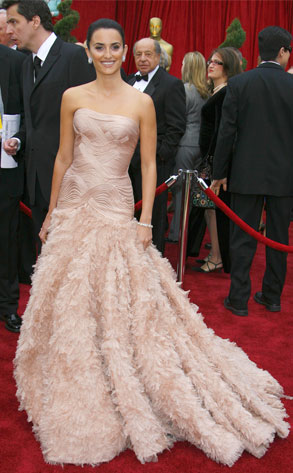 At least they didn't have to dust the floors afterwards.


Worst Idea For an Oscar Telecast:

A performance by the Sound Effects Orchestra, during which all subtitles suddenly vanished. Deaf people around the world were heard exclaiming, "Wha?!"
Best Impersonation of a Grand Piano With the White Keys Painted Over:

Queen Latifah.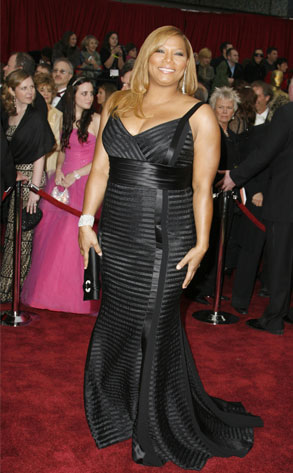 But she could still kick my ass.


The "Help! A Giant Moth is Attacking My Tits!" Award:

Anne Hathaway.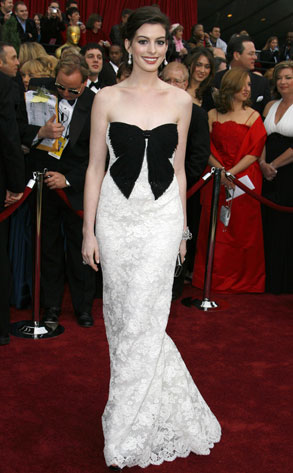 After the show, it ate the rest of her dress.


Best Garment Built by General Motors:

Jennifer Hudson's bolero jacket.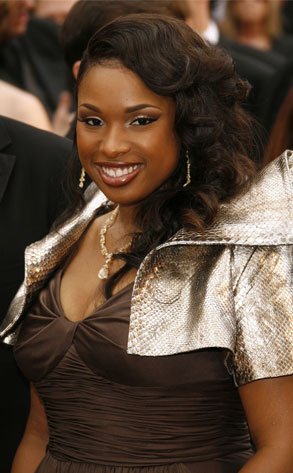 But her breasts looked luscious!
Best Impersonation of a Las Vegas Hooker:

Kirsten Dunst.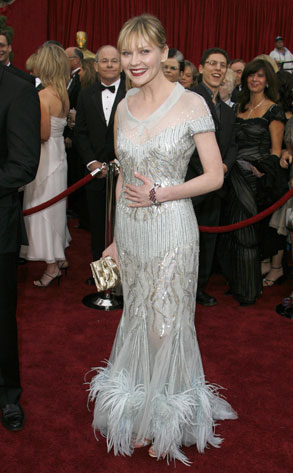 And get some sun, honey.

Most Surprising Couple:

Clay Aiken with that chick from "Popular."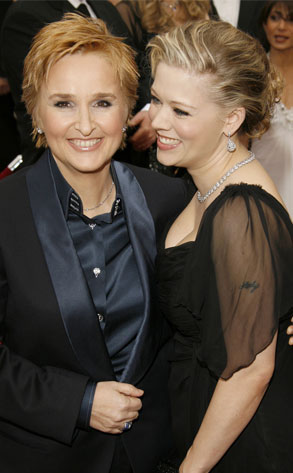 Not that there's anything wrong with that.


The "How on Earth Did Ellen DeGeneres Land
You
" Award:
Portia de Rossi.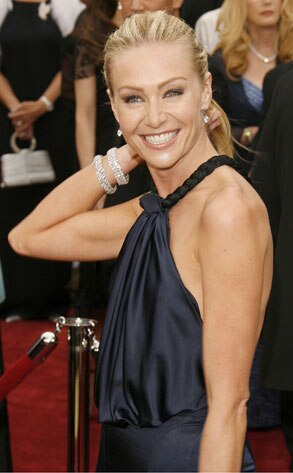 Although she should really eat something.


Best Acceptance Speech:
Forest Whitaker. A stunning turnabout after his fumbling and mumbling at the Golden Globe and SAG Awards.


Best Joke by Ellen DeGeneres:
"Earlier in the broadcast I told you Dame Judi Dench was having her eyes done. I apologize. It's her boobs she's having done."
Best Supporting Actress Award:
Isla Fisher, and whatever magical force was keeping those massive jugs in place.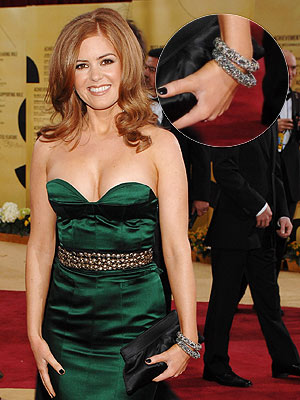 They sort of look like a giant pair of eyes.


Cutest Couple:

Will Smith and his son, Jaden, seen here with a pygmy they adopted from Malawi.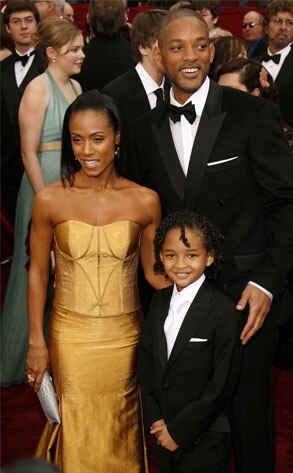 Where can I get one?


Finally, I know you're all dying to see my costume from the Oscar party last night. Well, here it is... and it won me first prize:


Was there ever any doubt?

By the way -- if you've never waited for a bus on 8th Avenue in a snowstorm while wearing granny drag... well, you haven't lived.

And now, the actual winners:



Best Picture

:




The Departed





Best Actor

:




Forest Whitaker, The Last King of Scotland





Best Actress

:




Dame Helen Mirren, The Queen





Best Supporting Actor:




Alan Arkin, Little Miss Sunshine





Best Supporting Actress

:




Jennifer Hudson, Dreamgirls





Best Director

:




Martin Scorsese, The Departed





Best Original Screenplay:




Little Miss Sunshine





Best Adapted Screenplay

:




The Departed





Foreign Language Film:




The Lives of Others





Animated Feature

:




Happy Feet





Music (Score)

:




Babel





Music (Song)

:




I Need to Wake Up - Melissa Etheridge (from An Inconvenient Truth)





Best Art Direction

:




Eugenio Caballero & Pilar Revuelta, Pan's Labyrinth





Best Makeup

:




David Marti And Montse Ribe, Pan's Labyrinth





Best Animated Short Film:




The Danish Poet





Best Live Action Film Short:




West Bank Story





Best Sound Editing:




lan Robert Murray & Bub Asman, Flags Of Our Fathers





Best Sound Mixing:




Willie Burton, Bob Beemer & Michael Minkler, Dreamgirls





Best Costume Design:




Milena Canonero, Marie Antoinette





Best Cinematography:




Guillermo Navarro, Pan's Labyrinth





Best Visual Effects:




John Knoll, Allen Hall, Charles Gibson & Hal Hickel, Pirates Of The Caribbean: Dead Man's Chest





Best Documentary Short:




The Blood Of Yingzhou District





Best Documentary Feature

:




An Inconvenient Truth





Best Film Editing:




Thelma Schoonmaker, The Departed




♥
Come see me host the Electro Shock Therapy Comedy Hour next Sunday, March 4 -- when my special guests will be Ophira Eisenberg, Yamaneika and Amy Patrick. Details on
my web site
.