Well, another week has gone by. Iraq is exploding. Republican Senators are pledging their allegiance to Jesus. And Shaun Eli is the No. 1 comic on Comedy Soapbox.
So another words, same ol' shit.
A few of you have requested that I resurrect my "Week in Review" column, but frankly, it involves a huge amount of work for very little payoff. And I suspect it amuses nobody outside of the comics who blog on this site (with the possible exception of the sex-crazed Soapbox stalker know only as
"Postdoc").

I will, however, say publicly that I was mighty impressed with Morgan Gold's sordid tale of wiping himself with his own sock. (And the title -- "The Sock" -- is genius through simplicity.)

Always the competitive soul (and not to be undone by a toilet tale), I hereby reveal to the universe my most painful and embarrassing childhood memory.

I was about 7 or 8. My mother had furnished my bedroom in what was no doubt the height of latter-70s chic: Everything was butcher block, including my bed -- really just a giant box with a mattress inside it -- and a storage unit that ran the entire length of one wall. The unit consisted of a cabinet, a desktop, and two giant parallel drawers for storing clothing.

In typical 70s minimalist fashion, the drawers had no handles on them. To open them, I had to scrunch down, spread my arms as wide as they would go, grasp the rough butcher block edges of the drawer and apply pressure until the heavy thing rolled out on its metal casters.

Closing the drawers was a much simpler operation; all one had to do was push, and the thing abruptly slammed back into place.

I rarely used the bottom drawer; the top drawer was where I kept the clothing I wore on a daily basis -- t-shirts, jeans, socks, underwear and pajamas. (They were really big drawers.) And I had gotten in the habit, when rushing to get dressed, of using my midsection to close the top drawer. I was just the right height so that one pelvic thrust and boom -- I was done.

Except for one thing I didn't know at the time: Little kids don't stay the same height forever.

One night, I hurriedly went about dressing myself in pajamas. I went through my normal routine: scrunch down, spread arms, apply pressure, reach into drawer, remove PJs and boom -- pelvic thrust. For a moment I was stunned; I had never seen stars appear before my eyes like that. Then I looked down.
The drawer was indeed closed.

And my penis was inside it.

I don't mean to make it sound like I was Bobbited; my little boyhood was still attached to me. But at the same time, it was completely contained inside a closed butcher block drawer. Confused? Picture a balloon animal, and you'll get some sense of the state I was in.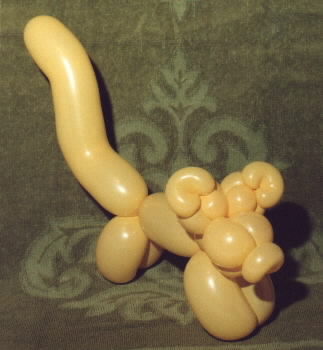 Yup.
It took another few seconds, and then I began screaming. Within moments my entire family -- Mom, Dad and two older sisters -- were in my room to witness this freak accident. I distinctly remember my sisters laughing, God love 'em. My father opened the drawer, freed my mangled meat, swooped me up and carried me down to his office for examination. (He happened to be a pediatrician with a home office.) I assume, too, that somebody peeked inside the drawer to make sure I hadn't left anything crucial behind.

Later, when I finally got the nerve to look down at myself, I saw blood. Then the skin at the base turned black for a few days. And peeing was excruciating for at least a week.

But miraculously, I suffered no serious damage of any kind. Well, except for the fact, I've always suspected, that I would have been far more well endowed had it not been for this unfortunate incident.

And to this day, the sight of butcher block makes me shudder.

♥