Holy Blog Drought, Batman! What amazes me is how many of my fellow Soapboxers continued blogging, even with nobody able to read what they were writing. That's commitment.

I had planned to do a Week in Review, but I'm way too behind on my reading to even attempt one. Instead, a few updates:

I just got booked to headline at an Atlantis Cruises resort in Cancun on May 1. They're flying me to Mexico on a Saturday night and flying me back Monday. Obviously, I'm thrilled, but the pressure to develop 45 minutes (read: an eternity) of strong material in the next 30 days is rather intense. I've got four upcoming April dates to get ready, and would gladly welcome more.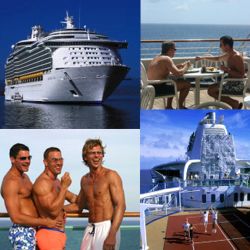 Are these guys laughing at my comedy, or my physique?

Saturday night I dragged Jason to Rose's Turn and did an all-Schiavo set, which was generally well-received. (Sample joke: "I don't want to say the Pope's in bad shape... but Terri Schiavo's parents just announced they want him taken off life support.") During the bridge of "Life in a Northern Town," when I always do schtick, I said, "This is the part of the song where Michael Isaacs turns down the lights... and then I remove his feeding tube." Without missing a beat, Michael said, "That's not my feeding tube, Sir." The crowd roared. Paul Schaffer's got nothing on Michael Isaacs.

So a big news day: Johnnie Cochrane -- dead. The media is treating him like a hero, which strikes me as odd, since I thought he was a snake who got a murderer off by exploiting the country's racial tensions.

Speaking of racial tensions (and Schiavo), professional media whore Jesse Jackson turned up in Florida today with Terri Schiavo's parents, demanding that doctors stop "starving" Terri, the process of which he called "inhumane."

"If it blinks... it can think!," said the Reverand Jackson to a throng of cheering Christians. "If it moans, leave it alone!" (All right, he didn't really say that, but it's only because his rhyming speechwriter is away on an Atlantis Cruises vacation in Cancun.)

Speaking of using religion to further a political agenda, Jerry Falwell is in critical condition in a Virginia hospital. In other news, Lucifer has been spotted hovering over a hospital in Virginia.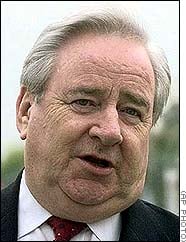 "How very unkind."

Speaking of bloated hypocrites, Douglas Smith Jr., national program director of the Boy Scouts of America, has been charged with trading kiddie porn on the Internet. According to The New York Times, Smith spoke on behalf of his organization's policy of dismissing openly gay scouts and scout leaders in a 2004 case that reached the Supreme Court, saying, "Some intolerant elements in our society want to force scouting to abandon its values and become fundamentally different." Yes, we gays are so intolerant: of pedophiles who scapegoat us, that is.

And finally, anyone watch "American Idol" tonight? Paula Abdul seems to be heavily medicated, perhaps on a combination of oxycontin and Absolut. With her glazed eyes and slurred, rambling comments, she's about six months away from starring in a reality TV series.

Oh, wait -- she already is.

♥